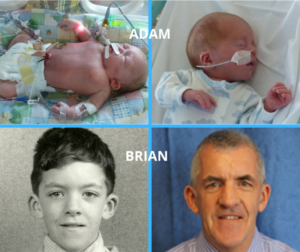 Brian (at 7 and now)
Adam (at birth and 4 weeks)
Brian Carlton and his wife Norma didn't know anything about Noonan Syndrome until their third child Joanne came along. When she was found to have heart problems, just like her two older siblings, investigations were started to find out why. The family then learnt that they had been living with Noonan Syndrome for longer than they realised.
Here's their story, told by Brian, one of our trustees.
"Our first child, Graeme, was always a bit different. He was a bit of a loner, didn't like balloons because they sometimes went bang! He played on his own at school, couldn't tolerate lumpy food and so didn't get invited to many parties by the kids at school.
He was late walking, was good with words (especially pronouncing them backwards) but struggled with numbers.
He had Pulmonary Stenosis which was very mild and didn't need any intervention so health-wise, he was OK – we just knew he was different somehow.
Because of his strange combination of being good with words and poor with numbers we thought it was something like dyslexia but with numbers as the problem area instead of words and letters.
I went to an evening run by the Dyslexia Association and they told me about special education needs statements so because he was having so many problems with maths, we asked if we could have  one for Graeme. This was refused twice but we kept appealing and pushing and eventually we got it, so he got more help with maths and longer for exams.
A new diagnosis
It was when a new family moved in nearby with a son who had Autism that we noticed similarities to his behaviour – and so Graeme was also diagnosed with Asperger's Syndrome.
At school, Graeme was always very consistent and conscientious, with good GCSEs including maths after a few resits, plus school prizes for French and 'endeavour' – for his ability to just keep on trying!
He did start a degree, but he dropped out after the first year, turning instead to a Business Studies GNVQ Level 3.
Fast forward to now and Graeme works in the IT environment. He has very good retention of facts and figures and is a whizz at quiz shows!
He is very active in the local PHAB club (Physically Handicapped and Able Bodied), going on activity weekends and playing sport with disabled people too.
It gives him a really good outlet, and he has a very rewarding life because of it.
The lumpy food tolerance went away and now he eats anything and everything – but he still hates balloons.
Jaclyn
Jaclyn was our second-born and had VSD – Ventricular Septal Defect, which was quite mild, and it eventually closed up by the time she was 12.
She was quite shy but had lots of friends. She was bullied occasionally but she enjoyed ballet school, Brownies and Guides.
She enjoyed Sixth Form College more than school, probably because the kids there  all chose to be there and were treated more like students than schoolchildren.
After that, she went to university and got a BA Honours in English and History, before working in the local library service and then becoming a mum to Adam in 2013 and Alice in mid-2018. Alice also has confirmed Noonans and a mild heart murmur which is awaiting further investigations by her cardiologist.
Joanne
Our third-born Joanne, had a Pulmonary Stenosis which led to an operation using a balloon catheter when she was three to try and open up the valve. This  wasn't fully effective, so she had open heart surgery a year later and that proved to be effective so she was discharged in her early teens. Over Christmas 2017 she had palpitations which turned out to be moderate to severe regurgitation in the Pulmonary Valve so she may need a valve replacement in the future but there are no immediate plans for intervention on that just yet, so we will see how it goes.
Like Jaclyn, Joanne enjoyed sixth form college more than school, gaining good exam results at GCSE and A'Level but decided not to go to university.
She wanted to go into administration, and she worked for the Shaw Trust, where she got a GNVQ Level 3 in Business Administration.
She now has two part-time jobs and, like the rest of the family, enjoys the gym.
Grandchildren
Jaclyn's little boy Adam has come on a long way since he was born in 2013. He was  severely Hydrops at birth having been born six weeks early via C-Section, and had to be resuscitated for a long time.
He was born with around 30-40% extra fluid, which by four weeks had drained and made him look completely different.
He also had other problems including Chylothorax, so he was on a fat-free food for four months, and hernia surgery.
He had pulmonary stenosis and for him, the balloon catheter worked well. He still goes to the Freeman in Newcastle, but he doesn't have to go back for three years as far as his heart is concerned so that is good news.
He had quite a severe birth mark under his eye which was has gradually faded with some drops we used on it – you can just see a little bit of extra skin under his eye now.
He was a late walker – two years before he started getting about and he now has special insoles in his shoes to help him with his walking.
Now, at six years old, he's quite small; both his height and weight are well down below average – even on the Noonan chart he is quite low down.
He does tend to get a lot of chest infections, so as soon as he gets a cold it goes straight there, but he fights it better each time.
It was decided to defer his start date into primary school because of his late development, he wasn't fully toilet-trained yet and had lots of multi-discipline care, so he stayed at nursery and then went into mainstream school with a specialist unit attached, a year later than he might have done.
Following a couple of what we now know were seizures, we have found out that Adam also has cerebral palsy, which is thought to have been caused by his difficult birth and prolonged resuscitation; this has also led to epilepsy.
A diagnosis at thirty
It was in the late eighties (I was in my thirties) that I was diagnosed with Noonan's along with my three children. The condition hadn't had any noticeable effect on my childhood, but having the diagnosis gave us an explanation for why Graeme was different, why all three had heart problems, and confirmed to everyone that we were not being neurotic parents. Being part of the NSA has also helped us to realise that our problems have been relatively mild, apart from Adam's ongoing issues, and we have hopefully re-assured other parents that having NS doesn't mean you can't lead a happy and fulfilling life.
Educationally, we have all made steady progress by just plodding steadily away, and the childhood problems gradually improved.
We do a lot as a family and we have found that with persistence and perseverance, especially in getting your message across to the education and medical professionals, you can get there in the end.
Research
We have been involved with more recent genetic research, having just found through the DDD study that our faulty gene is LZTR1, and with three generations of Noonan Syndrome in the family, we are currently part of another genetic study being run in the north east of England.