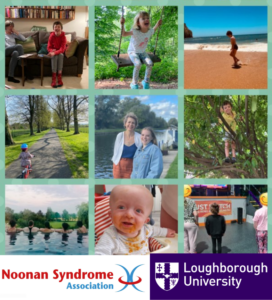 Dr Katie Coveney, Loughborough University, is conducting a social research study during 2022-23 to explore families' lived experiences of Noonan Syndrome. Specific research questions will be addressed including:
1. What are the daily realities of living with NS? How does NS impact on family life?
2. What difficulties and challenges exist for families living with NS? How can these be mitigated?
3. What social and emotional issues do families see as being of importance and significance to them?
4. What networks of care do NS families develop and draw on? And are there any gaps in the provision of or access to social and emotional support?
5. Are there inequalities in access to health care and social support?
6. What ongoing resources or support might be required to make life easier for families with NS; and what might these look like?
The proposed study will:
Provide rigorous academic research that evidences the social and emotional impacts of living with NS and can be used to inform and guide efforts to improve systems of care for people with NS and their families 
Provide research -led information to guide the NSA in their quest to provide better support for families and inform the way in which they engage with desired populations
Be used to develop resources for parents caring for children with complex health needs
Contribute to academic scholarship in medical sociology and medical anthropology on chronic living, including recent calls for more acknowledgement of intersections between medical sociology and disability studies
Be used as a springboard for further research